Made in México
100% medical grade silicone
Size: Small, Big
Color: Clear
Price: 30€
Menstrual cup Angelcup in its paper box.
One recycled PET bag with an angelcup print.
Instruction leaflet in Spanish.
The menstrual cup Angelcup is available in 2 sizes:
Small: women under 30 years old who have never delivered vaginally.
Big: women over 30 years old and/or women who have delivered.
| Size | Capacity | Diameter | Cup length | Total length |
| --- | --- | --- | --- | --- |
| Small | 20ml | 40mm | 50mm | 60mm |
| Big | 30ml | 45mm | 56mm | 70mm |
Proudly made in México menstrual cup under FDA, ISO 9001:2008, ISO 14001:2004 and ECO certification. Very soft and comfortable. Angelcup's stem and edges are rounded for extra comfort, Angelcup´s interior and exterior smooth texture allows you to place it, remove it and clean it very easily and without discomfort.
official website: angelcupmexico.com
There are many different menstrual cups in terms of design, sizes, colors, packaging and prices. You can also have a look at the cup comparison table for a better overview. Every woman is unique and needs to find her perfect fit. Browse thru them and take your pick.
Why use it?
The menstrual cup is healthy, ecological and economical. What's not to like?
>>
Get informed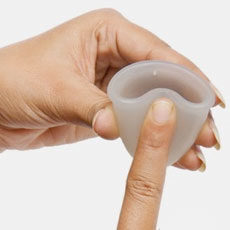 How to use
6 step guide on to insert, remove, wash and maintain your menstrual cup properly.
>>
Read the guide
Compare cups
There are so many cups to choose from, I made this comparison table to help you choose.
>> See comparison table
Comments1
comments