Made in Korea
100% medical grade silicone
Size: Small, Large
Basic color: Clear
Price = 21.99€
*FREE WORLDWIDE SHIPPING*
Menstrual cup Bella cup
Storage bag in bright grey or dark green
Instruction leaflet
The menstrual cup Bella cup is available in 2 sizes:
SMALL: for women under 30 years who have not given birth vaginally.
LARGE: for women over 30 years or who have given birth vaginally
| Size | Capacity | Diameter | Cup length | Total length |
| --- | --- | --- | --- | --- |
| Small | 20ml | 41mm | 48.1mm | 71.9mm |
| Large | 30ml | 45.5mm | 53.1mm | 73.34mm |
The meaning of Bella is "beautiful". When we first came across a menstrual cup, we found that most of them were stubby & stiff. So we focused on an elegant & convenient design. Tenderness, grace and unconstrained freedom…This is the real value of bella.
We garantee that Bella menstrual cup does not contain any of the following: Strings, bleaches, fibers, absorbency enhancers, phthalates, latex, plastic, PVC, acrylic, acrylate, BPA, elastomer, polyethylene, perfume, and free of colors and dyes.
official website: bellacup.co.kr
There are many different menstrual cups in terms of design, sizes, colors, packaging and prices. You can also have a look at the cup comparison table for a better overview. Every woman is unique and needs to find her perfect fit. Browse thru them and take your pick.
Why use it?
The menstrual cup is healthy, ecological and economical. What's not to like?
>>
Get informed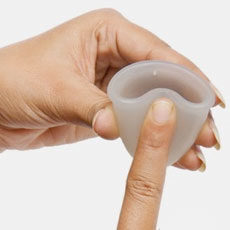 How to use
6 step guide on to insert, remove, wash and maintain your menstrual cup properly.
>>
Read the guide
Compare cups
There are so many cups to choose from, I made this comparison table to help you choose.
>> See comparison table
Comments1
comments