Made in Italy
100% medical grade silicone
Size: S, L
Basic color: clear, fushia, blue
Price = 16.50€
menstrual cup Eco Cup
100% cotton pouch.
Instruction Guide
The menstrual cup Eco Cup is available in 2 sizes:
S: for young women with a light flow.
L: for women with a heavier flow and/or who have given birth vaginally.
| Sizes | Capacity | Diameter | Cup length | Total length |
| --- | --- | --- | --- | --- |
| S | 24ml | 42.5mm | 45mm | 66.5mm |
| L | 27.5ml | 46mm | 45mm | 66.5mm |
Eco Cup is a brand of NTS Benessere Italia, a company established in 2013 that produces and sells menstrual cups of the brands Eco Cup, Lybera and Fluxy. Lybera is mainly sold in pharmacies in Italy and Fluxy in Italian supermarkets. The The menstrual cup Eco Cup is sold online. It is a young company that comprises in its product range not only menstrual care products, but also feminine care products and other goods. All NTS produces are made in Italy in order to guarantee to the customers maximum quality and care.
official website: eco-cup.it
There are many different menstrual cups in terms of design, sizes, colors, packaging and prices. You can also have a look at the cup comparison table for a better overview. Every woman is unique and needs to find her perfect fit. Browse thru them and take your pick.
Why use it?
The menstrual cup is healthy, ecological and economical. What's not to like?
>>
Get informed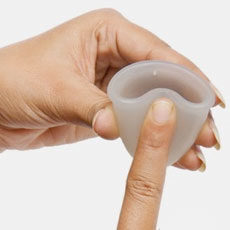 How to use
6 step guide on to insert, remove, wash and maintain your menstrual cup properly.
>>
Read the guide
Compare cups
There are so many cups to choose from, I made this comparison table to help you choose.
>> See comparison table
Comments1
comments