Made in Finland
100% medical grade silicone
Size: 1, 2
Basic color: Clear, blue (Selene), violet (Cynthia)
Price = 28€
Menstrual cup Lunette
A cute satin pouch to keep your cup in when you are not using it.
Instructions to get you started with your new Lunette.
The menstrual cup Lunette is available in 2 sizes:
The Lunette menstrual cups are soft and pliable, however, model 1 is made of softer silicone than model 2.
Model 1: is recommended for women with light to moderate flow, younger women or women who have never had intercourse.
Model 2: is recommended for women who have a normal or heavier flow.
| Size | Capacity | Diameter | Cup length | Total length |
| --- | --- | --- | --- | --- |
| 1 | 25ml | 41mm | 47mm | 72mm |
| 2 | 30ml | 46mm | 50mm | 72mm |
In 2004, a girl named Heli Kurjanen ordered a menstrual cup from an online shop. She encountered some problems using it, but was thrilled about the freedom, flexibility, and product possibilities. Heli had big ideas.
We've all heard the saying necessity is the mother of invention, and in this case, Heli Kurjanen, became the mother of Lunette, and now serves as the companies' founder and owner. With laser vision and improved design, rooted in safety, ease, and comfort, (and compatible for women of every age, shape, size and childbearing stage) — Heli led the charge to create the world's top menstrual cup.
"As long as there are women, Lunette will offer safe, and efficient and eco-logical feminine protection — no strings attached."
In 2005, Lunette was brought to market in Finland, where it achieved strong sales, and by the end of that year, Lunette went online and international. In record time, Heli's life was transformed: from housewife to successful, international femme-trepreneur, and market disruptor, bringing education, sunlight, and intelligent feminine protection solutions where few existed before. Heli changed everything about feminine protection — one cup at a time. Today Lunette is sold in over 40 countries, and there are plans to expand further. Read more.
official website: Lunette.com
There are many different menstrual cups in terms of design, sizes, colors, packaging and prices. You can also have a look at the cup comparison table for a better overview. Every woman is unique and needs to find her perfect fit. Browse thru them and take your pick.
Why use it?
The menstrual cup is healthy, ecological and economical. What's not to like?
>>
Get informed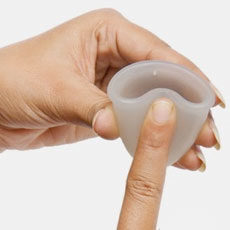 How to use
6 step guide on to insert, remove, wash and maintain your menstrual cup properly.
>>
Read the guide
Compare cups
There are so many cups to choose from, I made this comparison table to help you choose.
>> See comparison table
Comments1
comments