Menstrual cup Miacup product information
Made in South Africa
100% medical grade silicone
Size: 1, 2
Basic color: Purple
Price = 36€
FREE WORLDWIDE SHIPPING from South Africa
Menstrual cup Miacup
A stylish and practical draw-string carry bag to store it.
Instructions to get you started with your new Miacup. Miacup pdf user guide

Menstrual cup Miacup sizes
Miacup is available in 2 sizes:
Model 1: For women under 30 years of age who have also never given birth vaginally.
Model 2: For all women over 30 years of age or who have given birth vaginally.
For both models, there are 2 holes just below the top rim, approximately 2mm in diameter. Miacups manufactured before May 2009 have 4 holes, approximately 0.8mm in diameter. The holes were changed on newer models due to customer feedback, in order to make them easier to clean.
| Size | Capacity | Diameter | Cup length | Total length |
| --- | --- | --- | --- | --- |
| Model 1 | 25ml | 43mm | 46mm | 70mm |
| Model 2 | 30ml | 46mm | 50mm | 70mm |
How the menstrual cup Miacup was born
A new award winning menstrual cup with a social mission!
Miacup South Africa is a 100% privately-owned corporation based in Johannesburg, South Africa. Founded in 2007, our mission is to give women the freedom that they've never had with traditional feminine hygiene products. We want to show women that they can demand more from an industry that has seen little real innovation and few real improvements since the introduction of the tampon in the early 1900s.
We are dedicated to ethical business practices and to the protection of the environment. While profitability is, naturally, essential to our future, we are not a public company and are therefore not bound to uphold the interests of our shareholders above all else. We truly believe that business without profiteering or exploitation is possible; that success will naturally come with real customer satisfaction and superior products.
Miacup South Africa takes a holistic view of our corporate social responsibility.
From a website hosted on carbon neutral servers to our use of recycled and sustainably-sourced packaging materials (now also 100% carbon neutral), Miacup is as concerned about the environment as you are. A portion of proceeds from every menstrual cup Miacup sold will be donated to Food & Trees For Africa (click here for more information). This is not a limited-time marketing gimmick. Unlike some others in the industry, we have never tested and will never test our products on animals in any way. We are a 100% privately owned organisation and one that is committed to the belief that business without profiteering or exploitation is possible.
official website: miacup.co.za
Why use it?
The menstrual cup is healthy, ecological and economical. What's not to like?
>>
Get informed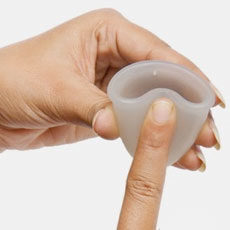 How to use
6 step guide on to insert, remove, wash and maintain your menstrual cup properly.
>>
Read the guide
Compare cups
There are so many cups to choose from, I made this comparison table to help you choose.
>> See comparison table
Comments1
comments