Designed in Denmark
100% medical grade silicone
Size: Small, Medium
color: Clear, Pink, Blue, Purple, Red
Price = 28.95€
Menstrual cup Ruby cup
Natural cotton bag with satin drawstring and Ruby cup logo.
Full instructions in English.
Ruby Cup supports girls from underprivileged backgrounds to help them stay in school.
Your purchase supports Ruby Cup's work in Africa, including reproductive health education
and the donation of Ruby Cups to underprivileged schoolgirls.
Buy 2 Rubycup for 47.95€ and save 9.95€!
Thanks to the Programme "Buy one Give one" (read more about it below under "about menstrual cup Ruby Cup") When a menstrual cup Ruby Cup is purchased in our online store, we donate another one to a school girl in Africa. A Ruby Cup helps her to stay in school and relieves her from the economic burden of buying tampons and pads that she can't afford or simply do not have access to. Paired with education, a menstrual cup empowers her, gives her self-confidence and opportunities.
The menstrual cup Ruby Cup is available in 2 sizes:
Small: for women of all ages who have a light flow, experience breakthrough bleeding or spotting in between periods
Medium: for women or girls with a medium to heavy flow
| Size | Capacity | Diameter | Cup length | Total length |
| --- | --- | --- | --- | --- |
| Small | 24ml | 40mm | 46mm | 65mm |
| Medium | 34ml | 44mm | 51mm | 68mm |
A new award winning menstrual cup with a social mission!
Ruby Cup is a wonderful menstrual cup that is re-usable for 10 years and designed by 2 Danish and 1 German woman who believe all women deserve the best. It has a large capacity and an easy to grab stem. Its smooth consistency enables an easy open-up function, soft insertion and removal, and its frosted feel provides an easy to clean surface. When you use Ruby Cup, you almost forget you have your period! Ruby Cup is made of 100% top quality medical grade silicone. It comes in a pink biodegradable envelope and contains a beautiful 100% cotton Ruby bag and a leaflet with instructions for use.
The Programme "Buy one Give One" supported also by Menstrualcup.co
Menstruation is a main cause of school dropout for girls in poverty. Pads and tampons are too expensive or unavailable, and girls are forced to use alternatives such as mud, bark, rags, cloth or pieces of newspaper. As well as being undignified and unhygienic, these alternatives are not safe, and girls stay home. This amounts to 20% of their school time. When you buy a Ruby Cup, you give one to a Kenyan schoolgirl. With one Ruby Cup, a girl can all the way from primary school through university without having to worry about her period again. With an office in Nairobi, the three Danish female founders Julie, Maxie, and Veronica, have won several awards for their work on the ground. Ruby Cup is sold online to western markets, and when you purchase a Ruby Cup through Menstrualcup.co, you give one to a school girl in poverty.
Today, menstruation is the main cause of school drop-out for girls, but we believe that no woman or girl should be held back because of her period. That's why we have created a company where women can support women. (Maxie Matthiessen, co-founder, Ruby Cup)
UNDP calls unsanitary menstrual hygiene protection an overlooked problem that hinders achieving the Millennium Development Goals (MDGs) of universal education and gender equality. Studies show that girls miss up to 20% of their school time each year because they are afraid of staining their clothes during their period and therefore stay at home. This absence causes some girls to drop out of school entirely. Lacking proper sanitary products, girls and women are forced to use degrading solutions which do not absorb well and frequently pose serious health implications in the form of infections and diseases. Making disposable pads available to women in developing countries poses a serious environmental problem, as there is rarely appropriate infrastructure to handle this kind of waste—a type of waste that manifests additional health concerns. There is a general lack of education and guidance regarding menstrual hygiene and the use of menstrual hygiene products.
More about the Ruby Cup team…
official website: ruby-cup.com
There are many different menstrual cups in terms of design, sizes, colors, packaging and prices. You can also have a look at the cup comparison table for a better overview. Every woman is unique and needs to find her perfect fit. Browse thru them and take your pick.
Why use it?
The menstrual cup is healthy, ecological and economical. What's not to like?
>>
Get informed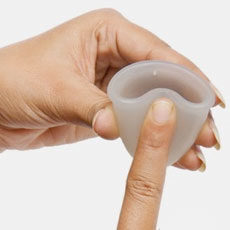 How to use
6 step guide on to insert, remove, wash and maintain your menstrual cup properly.
>>
Read the guide
Compare cups
There are so many cups to choose from, I made this comparison table to help you choose.
>> See comparison table
Comments1
comments