Made in USA
FDA Approved Medical Device
100% medical grade silicone
Size: Small, Large
Color: clear, green, dark blue, light blue, yellow, red
Price = 35€
Menstrual cup Sckooncup ECOPACK
Organic cotton pouch (Please note pouches color will vary based on availability)
Full user guide
No box or wasteful packaging! SckoonCup ECOPACK is a plain, recycled ziplock package with our organic cotton pouch and user guide. Made of softer & squishier medical grade silicone, SckoonCup is easier for insert/removal even for beginners and those who could not use other menstrual cups. SckoonCup is a menstrual cup with advanced molding technology and design. Smooth outer curve without any bumps, easy to clean suction holes for maximum capacity and comfort. Along with a squishy soft cup and super flexible stem…all for your ultimate comfort.
The menstrual cup SckoonCup is available in 2 sizes:
Small: for women who haven't previously given birth vaginally.
Large: for women who have given birth vaginally.
| Size | Capacity | Diameter | Cup length | Total length |
| --- | --- | --- | --- | --- |
| Small | 23ml | 40mm | 40mm | 70mm |
| Large | 30ml | 45mm | 50mm | 70mm |
Life should be fun
We know you don't think comfort and reliability should be boring, and neither do we. Our trademark style is whimsy, with a bit of creative flourish thrown in for color and excitement. Not to mention our unconventional ways. Where else will you find a dog kimono? Bold prints, bright colors made with environmentally friendly dyes, and Japanese Ninja Kimonos on baby clothes are some of the fun things you'll find at Sckoon. Designed for fun, designed for you.
A growing company with "mom & pop" values
Our customers love Sckoon products so much we can't help but grow. We currently have distribution in over 38 countries and 2300 stores, and we're expanding every day. But becoming the largest organic company is not our only goal. We want to be the best. You can be sure that as we develop, we're keeping our core values in check.
For You, for Us, for Everyone
The health of our customers, our dedicated employees, and the planet is one of the largest concerns at Sckoon. That's why the only cotton we use is organic. We're a leading organic cotton brand, with over twelve years of experience and extensive product lines for women, babies, and pets.
As we seek new and innovative ways, and create new products, our customer's health and well-being is always at the heart of everything we do at Sckoon. Because our roots are as an organic company, it was a natural choice to select the safest material for our menstrual cup, too. SckoonCup is made with FDA approved medical grade silicone and approved dyes. We know you're making conscious choices about your health and the environment, and we're here to make those choices easy, responsible and fun for you. Choose Sckoon for yourself, for us, for everyone.
official website: sckooncup.com
There are many different menstrual cups in terms of design, sizes, colors, packaging and prices. You can also have a look at the cup comparison table for a better overview. Every woman is unique and needs to find her perfect fit. Browse thru them and take your pick.
Why use it?
The menstrual cup is healthy, ecological and economical. What's not to like?
>>
Get informed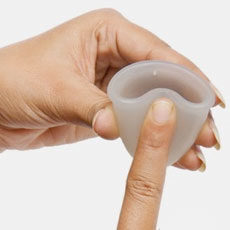 How to use
6 step guide on to insert, remove, wash and maintain your menstrual cup properly.
>>
Read the guide
Compare cups
There are so many cups to choose from, I made this comparison table to help you choose.
>> See comparison table
Comments1
comments