Made in Czech Republic
100% medical grade silicone
Size: 1, 2
Basic color: Clear, Rainbow
Firmness: Classic (shore 60), Soft (shore 40)
Price = Classic & Soft ECO 17.80€
including the infuser box 22.80€ clear and 38.80€ Yuuki Rainbow
Menstrual cup Yuuki cup
Infuser box to sterilize your menstrual cup in between cycles. (except for the Economic. The box infuser is green for Classic and Pink for Soft).
Instructions to get you started with your new Yuuki cup.
At the request of our customers, we introduce a menstrual cup SOFT (shore 40). Menstrual cup SOFT is softer and determines women for who is not suitable the menstrual cup CLASSIC (shore 60).
The Yuuki Eco pack is only 17.80€ – Get 2 for 27.80€!
It is cheaper because it comes without packaging and without the infuser box. Save money while being eco friendly!
Get 2 menstrual cups Yuuki CLASSIC OR SOFT for only 32.80€ including the infuser box!
This package is great value! Perfect for women who are not sure which size to get or women who want 2 identical cup to keep one at home and one on the move. The infuser box is a new product from Yuuki that can be used for cup disinfection. You do not have to anymore clean the cup in the pot but you can do it very simply in the microwave.
The Menstrual cup Yuuki cup is available in 2 sizes:
Accurately determine the size of the cup for every woman needs is impossible. Values are only orientational and depends on several factors. If you are unsure, we recommend that you buy a large cup. When the cup is too large you can save it for later use and buy the smaller cup.
Size 1: is designed for girls and women before childbirth.
Size 2: is designed for all women after childbirth. For women having a regular sex life and for women above 28.
| Size | Capacity | Diameter | Cup length | Total length |
| --- | --- | --- | --- | --- |
| 1 | 25ml | 42mm | 48mm | 67mm |
| 2 | 37ml | 44mm | 53mm | 75mm |
In 2005, Zuzana from Czech Republic tried a menstrual cup and loved the idea of not having to buy tampons or pads ever again. She wanted something comfortable for her travels and safe to do sport with. After going on holiday in a Caribbean island and being shocked on the pollution of pads she decided to create Yuuki to offer a different cup to women, slightly stiffer and with great capacity. The name Yuuki comes from Japanese YUU – "gentleness", "superiority" and combined with KI means "radiance", "hope" or "LIFE"
official website: yuuki.cz
There are many different menstrual cups in terms of design, sizes, colors, packaging and prices. You can also have a look at the cup comparison table for a better overview. Every woman is unique and needs to find her perfect fit. Browse thru them and take your pick.
Why use it?
The menstrual cup is healthy, ecological and economical. What's not to like?
>>
Get informed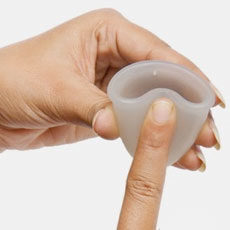 How to use
6 step guide on to insert, remove, wash and maintain your menstrual cup properly.
>>
Read the guide
Compare cups
There are so many cups to choose from, I made this comparison table to help you choose.
>> See comparison table
Comments1
comments