Made in UK
100% medical grade silicone
Size: A, B
Color: Clear
Price = £19.99
Mooncup® is sold in the USA under the name MCUK®
Mooncup/MCUK
Organic fair trade cotton bag with satin drawstring and Mooncup/MCUK logo.
Full multi-lingual instructions booklet.
The Mooncup – known in the USA as MCUK – is the original silicone menstrual cup designed by women to be a convenient, safe and eco-friendly alternative to tampons and sanitary pads. Loved by women all around the world, and made in the UK by a multi-award winning ethical business, the Mooncup menstrual cup offers an end to the waste, discomfort and expense of disposable sanitary protection.
The menstrual cup Mooncup/MCUK is available in 2 sizes:
Sizing is based on pelvic floor tone, not menstrual flow, and it's important to get the sizing right to get the best from your Mooncup/MCUK. Pelvic floor tone will vary according to your age, childbearing history and what sort of exercise you do. Corrective surgery to the vagina will also have implications. Check the guidelines to see which size you need:
SIZE A : Because vaginal and pelvic floor tones naturally reduce with age, the size 'A' Mooncup/MCUK is recommended for women aged 30 or over. The difference between the 'A' and the 'B' is only small (3mm), but it is crucial! Size 'A' is also recommended for all women who have given birth vaginally, regardless of age.
SIZE B : Designed for young girls and women under the age of 30 who have not given birth vaginally. It may also be suitable for women over the age of 30 who have had corrective surgery to the vagina, or who are advanced in tone-maintaining activities such as yoga, dance or pilates.
| Size | Capacity | Diameter | Cup length | Total length |
| --- | --- | --- | --- | --- |
| B | 28.8ml | 43mm | 50mm | 71mm |
| A | 29.3ml | 46mm | 50mm | 71mm |
Mooncup Ltd. was established in 2002, with a mission to make women's experience of menstruation more positive, healthy and eco-friendly. The Mooncup menstrual cup was designed from medical grade silicone to enable women with sensitive skin and particularly latex allergies to use it (earlier models were made from rubber). Mooncup Ltd., and particularly the Advice Centre nurses, are committed to researching menstrual health and to the advancement of education about this under-discussed subject that affects half the world's population!
Based in the beautiful seaside city of Brighton, Mooncup Ltd today is a multi-award winning small business run by a team of eight women, and collaborating with distributors all around the world. Whenever possible, the Mooncup team gets out of the office to talk directly with women at festivals, health shows and conferences. We also work closely with medical professionals with the same goal: to offer women a greater choice for their bodies each month.
In 2004, Mooncup Ltd. was awarded Ethical Company status for its commitment to people and animal friendly practices, making it the first sanitary protection manufacturer in the world to be a certified ethical business.
If you have any queries at all about using the Mooncup there is an advice line run by qualified health professionals: Kate and Irene. Contact them at advice@mooncup.co.uk or call 0044 (0)1273 355022
official website: mooncup.co.uk
There are many different menstrual cups in terms of design, sizes, colors, packaging and prices. You can also have a look at the cup comparison table for a better overview. Every woman is unique and needs to find her perfect fit. Browse thru them and take your pick.
Why use it?
The menstrual cup is healthy, ecological and economical. What's not to like?
>>
Get informed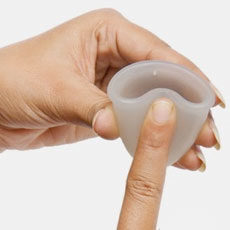 How to use
6 step guide on to insert, remove, wash and maintain your menstrual cup properly.
>>
Read the guide
Compare cups
There are so many cups to choose from, I made this comparison table to help you choose.
>> See comparison table
Comments1
comments